Regular price
¥46,500 JPY
Regular price
Sale price
¥46,500 JPY
Unit price
per
Sale
Sold out
Color
brown plain / dark blue plover
Only sold individually. We do not sell suits.
The photo will be charcoal. For black and gray, only fabrics are listed.

Prices are tentative.
Kisuk é tailoring has learned from the Italian aesthetic sense and craftsmanship, which is called "classico", which continues to create highly complete clothing.
Ito Knitwear Industry has made use of the know-how of knitwear/jersey, which is a local industry with excellent elasticity and breathability, which we have been involved in for many years, and created it with the cooperation of one of the best factories in Japan.
We also consider the global environment by assembling mainly materials and raw materials with an eco-background.
While maintaining the authentic standing position as sociality and style, we added a new function of "comfort" . We will send [NEW STANDARD JACKET] made in Japan from Sumida / Tokyo.
Item details
Pants: Easy-type side one-tuck with a rubber plate on the back of the waist belt and a spindle that adds volume from the waist to the hips.
side one tuck
Increased volume around the buttocks , tapered toward the hem
Back waist -- backed with rubber tape to add elasticity, spindle through
No center crease Back knee / Use cupra
Fabric: Balance circular
Material knitted with a special and rare knitting machine.
A stable material that has less vertical and horizontal stretch than regular jerseys and does not easily lose its shape.
It features a texture that combines the suppleness of jersey while having a saxony-like look with a wool base.
Material mix ratio: Brown: W94 N6 / Navy: W93 N7
Category: Jersey
size
pants
| | | | |
| --- | --- | --- | --- |
| | size 46 | size 48 | size 50 |
| around W | 84.0 / 76.0 | 90.0 / 82.0 | 97.0 / 89.0 |
| Around H | 102.0 | 108.0 | 115.0 |
| cuff | 15.0 | 16.0 | 17.0 |
| inseam | 91.0 | 91.0 | 91.0 |
Share
View full details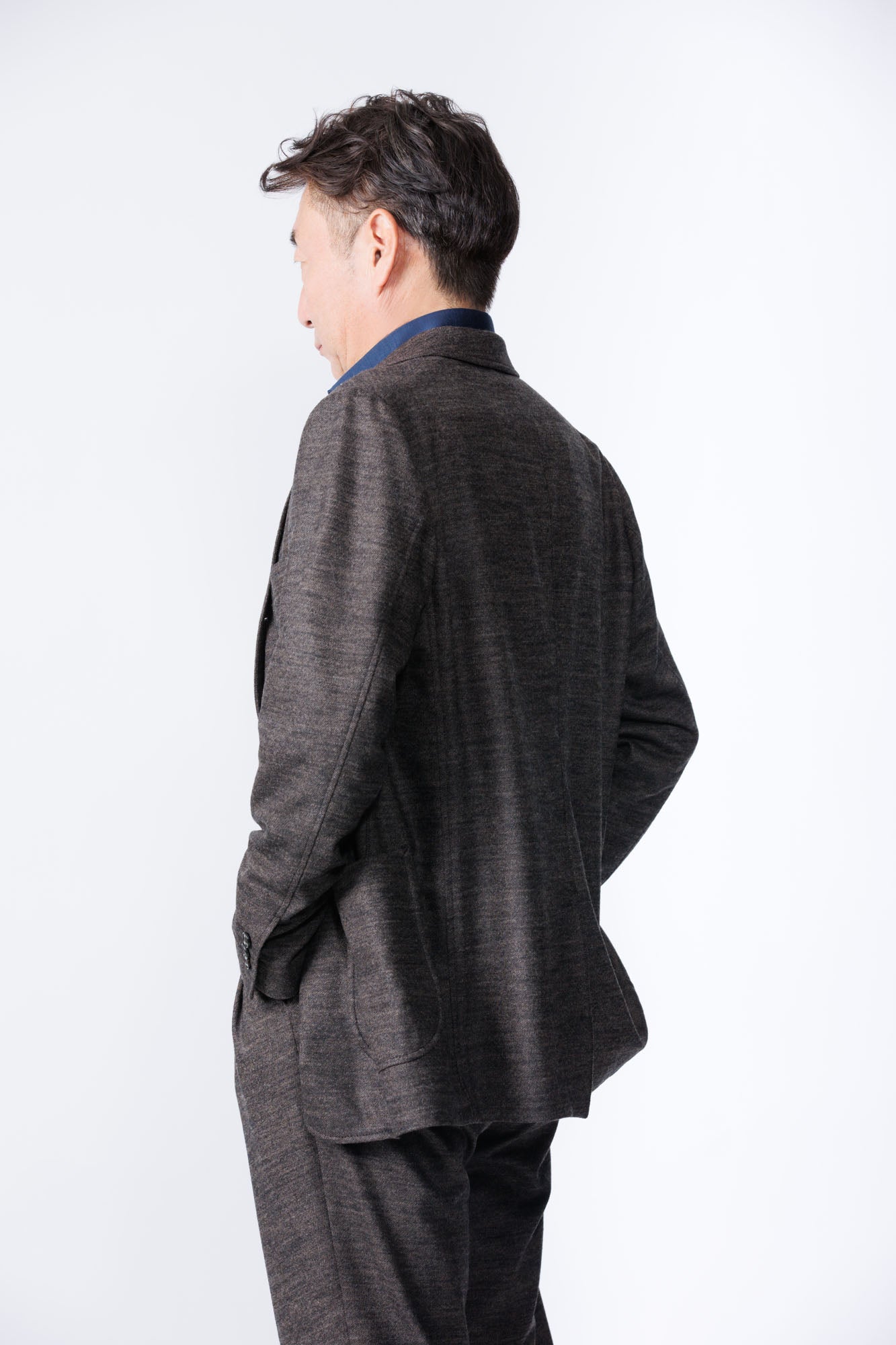 easy line
In the flow of the times, changes are born in lifestyles and business styles.

With the decline of no-tie and leather sole shoes, and recently new work styles such as remote work have become established, a relaxed style between official and casual has also emerged.

It features a jacket body with a box silhouette and a tapered silhouette that narrows down to the hem from the relaxed feeling around the waist due to the tucks on the sides.

By coordinating innerwear and shoes from Dress-down to Casual-up, it can also be used for various occasions.

ecology
Uses cupra (Bemberg) lining.
Cupra is made by regenerating the short fibers that grow in the seeds that are discarded after removing the fibers that will become cotton yarn from the cotton plant, using a special manufacturing method.

Because it is a natural fiber, it also has the property of returning to the soil.